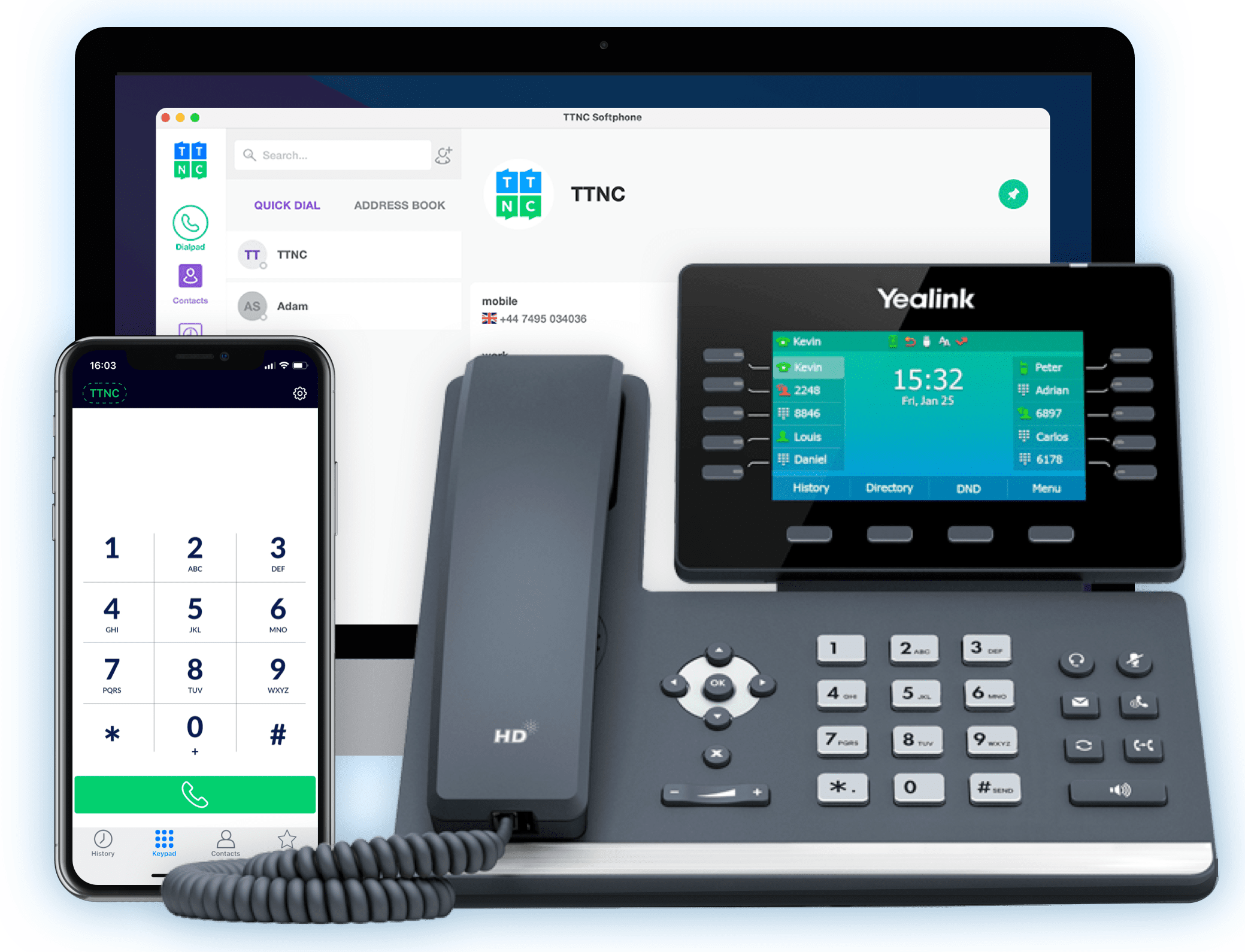 Take your office anywhere
Working From Home Made Easy
Our award-winning VoIP service allows you to make and receive calls with ease.
Cloud PBX - Inclusive call handling and call management features.
Softphone App - Free for Mobile, Desktop and Browser.
VoIP Handsets - Pre-configured VoIP hardware available.
Team Visibility - See when your colleagues are available or on a call.
Any Device - Make, receive and transfer calls from anywhere with an internet connection.
Explore VoIP
Virtual Numbers
We have numbers available wherever you are
With every type of number across the UK, as well as 58 countries around the world, we offer a complete global solution.
Getting the right virtual number can create more opportunities, generate new business or target the customers you want.
Number Comparison
Call Management
Your calls, handled your way
In addition to the great range of numbers we offer, you can also use a wide variety of advanced call management features that will give your callers a much more professional experience.
These include Call Queuing, Virtual Receptionist or Call Greeting, as well as giving you more control over your numbers, with features like Time Based Forwarding, Inbound Call Recording and Missed Call Alerts.
All our services can be managed through your account on our online platform, myTTNC.
Available Features
VoIP Services
Move into the future with our multi-award-winning VoIP solution
Instead of forwarding calls from your TTNC number to a traditional landline or mobile, our VoIP service allows you to make and receive calls over the internet on a mobile app, or VoIP Handset.
If you have an existing PBX, a TTNC SIP Trunk provides a connection to our VoIP network. This gives you the ability to make and receive calls from our network using your own PBX. The SIP Trunk includes unlimited outbound channels, IP authentication and online channel management.
Explore VoIP
myTTNC
Take control of your numbers and services
Our online platform gives you complete control of all aspects of your account, enabling you to make configuration changes in real-time, track your calls with itemised Call Statistics and purchase new services whenever you want.
Communicate with your customers from within myTTNC with our Make A Call service as well as via SMS and Fax.
Manage your account and billing
Instant number updates
Send and receive SMS
View detailed, real-time call data
Listen to call recordings
Create additional users
myTTNC Overview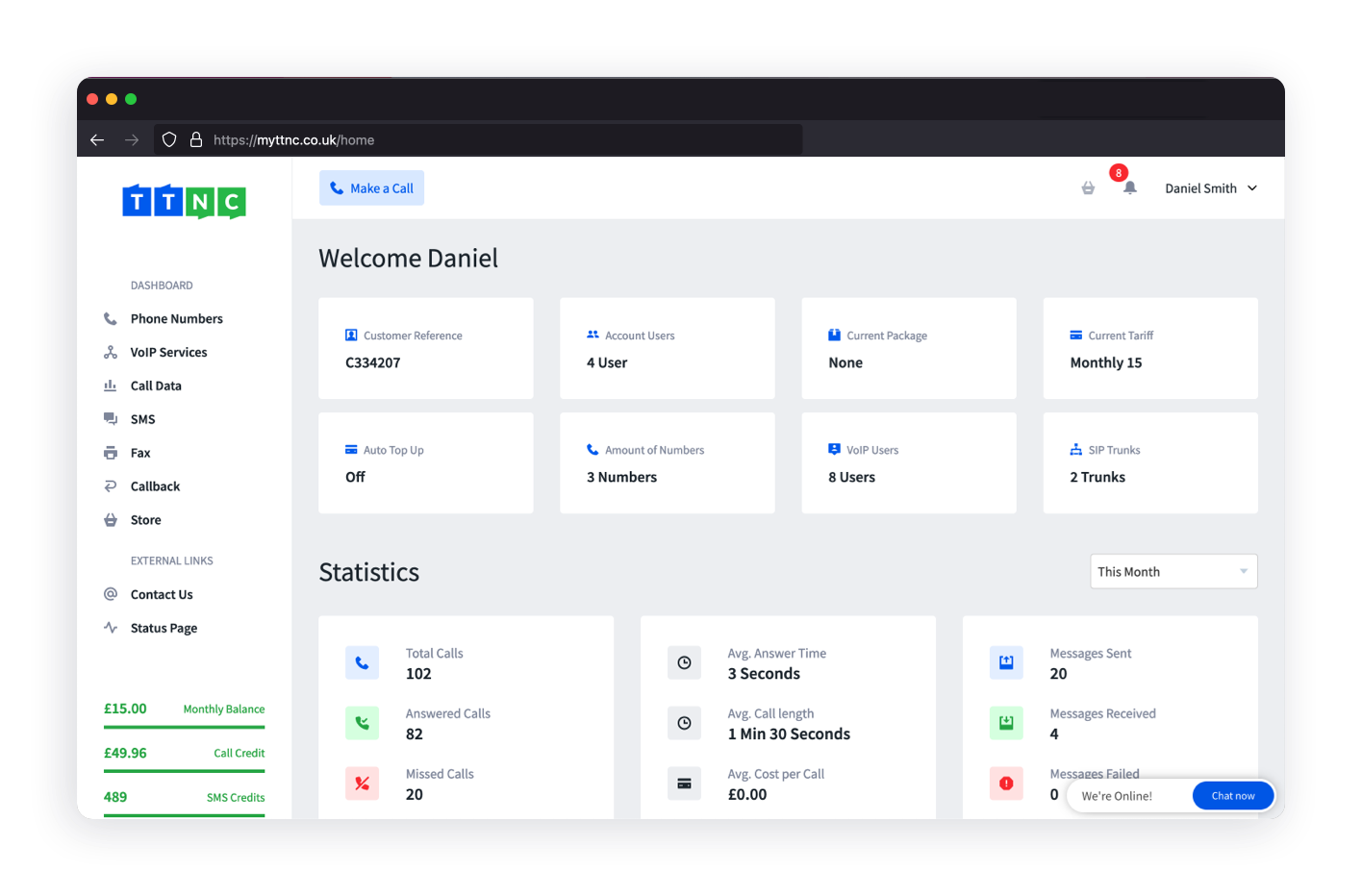 Why Choose TTNC?
Flexible, scalable and cost-effective telecom services that will help your business save money, increase efficiency and delight your customers. Our easy-to-use, award-winning platform gives you total control of your services, backed up by the highest-rated customer service in the business.
Quality
Holding the ISO 9001 is a clear sign that we are committed to delivering a quality service.
Scalability
We provide our services to all businesses, regardless of their size, from sole traders to big enterprises.
Reliability
We ensure that our network and services are resilient and efficient, with maximum uptime.
Conscientiousness
We value people, the environment and are dedicated to acting ethically, with integrity at all times. We are diligent and take pride in our work.
Security
We follow the ISO 27001 security standards for Data Protection & Best Practice Guidance documents.
Transparency
We are clear and straightforward, with no tricks or hidden surprises. We know that openness and honesty is the key to any successful relationship.
The Independent General Practice
Utilising TTNC's comprehensive VoIP Phone System for an easy transition from office to remote working.
The Independent General Practice is a private GP service that offers professional patient care, treatment and advice to individuals, families and businesses. They pride themselves on offering outstanding patient care from the moment an enquiry is made until a solution is found.
Read Case Study