Call Tracking
Identify how effective your advertising is
Being able to see when calls are coming in and who they're from can be vital to a business' success, especially if you're running an advertising campaign. After all, you don't want to be wasting money on a campaign that isn't generating any leads.
We want to provide all our customers with the best opportunities to grow their business, so unlike other providers, we don't charge you to view an itemised listing of all your inbound calls. This allows you to report on current campaigns, and to plan your future marketing better.
Effective Tracking

Allows you to simply determine lead generation from every advert and help focus future campaigns in the right areas.

Improve ROI

Use your Call Tracking data to improve your marketing return on investment.

Multiple Numbers

Every account can hold multiple numbers which can be tagged to assist with filtering and grouping data.

Call Statistics

As standard, every account has access to Call Statistics. Giving you the complete picture about every call.

Monthly Report

Once a month we'll send you an email with an overview of your call volume and a comparison of the previous month.

Integrations

More in-depth Call Tracking can be acheived through integration with Google Analytics and also by using our API.
---
What is Call Tracking
Call Tracking is the process of linking an inbound phone call with a source, usually a marketing channel. Call Tracking is used to evidence the success of a campaign, and to optimise future marketing strategy.
There are two types of Call Tracking, Static and Dynamic.
Static Call Tracking
This is usually used for offline and simple online advertising, where a single number is displayed or printed. Each advertising source has its own unique number, meaning calls can be tracked simply. Useful to see the effectiveness of:
Newspaper and magazine adverts
Mailshots and leaflets
Billboard posters
Banner ads on websites
Social media campaigns
Trade directory entries (online and printed)
Dynamic Call Tracking
Also known as Dynamic Number Insertion, can be used for online advertisements and websites, where you're looking for information about your visitor's journey. More than one number is assigned to the advert/website, and each number is given a criteria which, when met, will be displayed.
You can define:
The referring domain - How your visitor arrived. This could be a search engine or web page link.
A keyword search - The search term used to find your site.
Google Adwords PPC - the paid advertising reference.
---
Call Statistics in myTTNC
Every call, across every number, can be found here. And unlike some other providers, we don't limit the amount of information we display, so you're in the best position to make informed decisions about your business.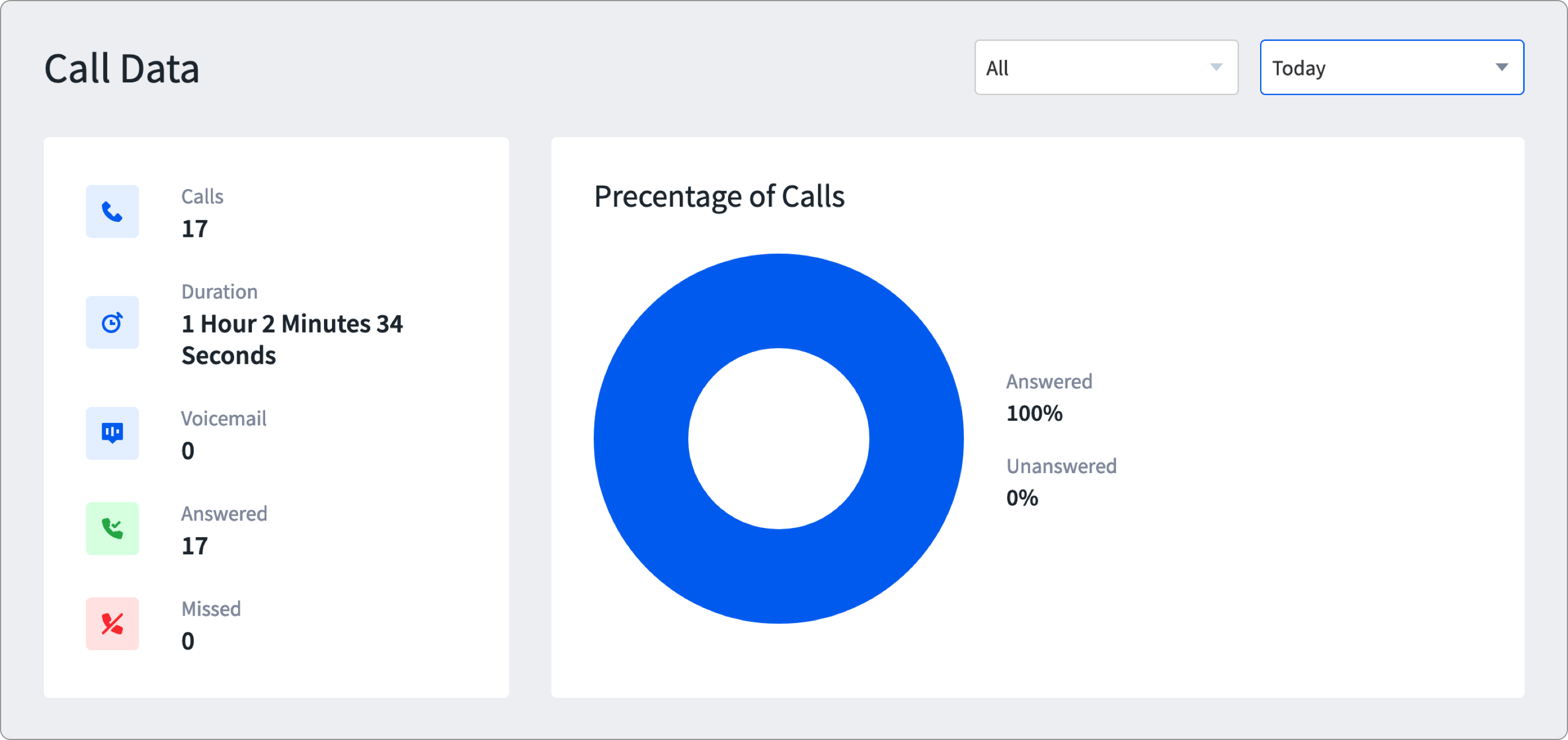 Our Call Statistics overview gives you a rundown of your calls within a defined timescale. This could be for today, last week or even over the previous 12 months. It's great for people who want a quick view of their call volumes over a period of time, without going into too much detail.
The in-depth Call Detail Records (CDRs) hold information about every call made to your TTNC numbers. This data can be viewed online or download as a .CSV and makes call tracking very simple.
Filtering your CDRs
The filter controls allow you to search for calls based on the number called, a date range or even the status of the call. You can choose which columns to show, so you can make sure you're not viewing information you don't need.
To make things even better, this data is all in real-time so you can keep up to date with your latest calls as they're coming in.
Call Statistics Columns to view:
Call Time - the time the call came in.
Number - the number that was dialled.
Location - the location of the callers dialling code or their mobile network.
Destination - the destination number that answered the call.
Option - the IVR option pressed.
Duration - how long the call lasted.
Cost - how much the call cost.
Ring Time - the length of time before answering the call.
Alias - the nickname assigned with the TTNC number.
Caller - the caller's phone number.
Tags and Aliases
The easiest way to know which number relates to which marketing source is by using Tags. These can be used in the filtering of your data in the Call Logs.
This could be the number's location, the name of your campaign or anything else you might want.
You can assign the same tags to multiple numbers. Searching for the tag will show any calls across these numbers. Using multiple tags on a single number allows you to get specific call data.
---
Google Analytics Call Tracking Integration
While a vast proportion of customers are happy with Static Call Tracking via myTTNC's Call Statistics, we have an integration with Google Analytics which allows you to view your Static and Dynamic Tracking together.
If you're already tracking visitors to your website in Google Analytics, you can view both your call data and web data together. Integrating your call data from telephone numbers, both online and offline, allows you to analyse all of your contact data in one analytics tool.
See more information about our Google Analytics Integration.
---
API Integration
Everything you can do within myTTNC has a corresponding API Function; from purchasing new numbers, enabling services, adding Tags and Aliases to extracting CDRs into your system. There are currently over 60 API Functions available to use.
Through integration with our API, you will be able to automatically allocate a Call Tracking number and assign it's Forwarding Destination, services, Alias and Tags through templated functions. You'll also be able to pull all or filtered Call Data into your system for easy analysis.
To explore our available functions and to get started see our comprehensive API Section on the Developer Hub.
Number search
Start the search for your number here. All numbers are £20 a year. Memorable numbers starting from £95 for the first year.
If you're looking to track your calls using multiple numbers, you can see our tiered monthly number pricing and submit an enquiry on our Wholesale Numbers page.
See more information about Call Tracking
Download the Call Tracking PDF