SMS and Fax
myTTNC gives you more ways to communicate with your customers
Being able to effectively communicate with your customers is vital to any business. And with myTTNC it's never been easier to get in touch with your customers using SMS or, if you're a little bit old school, via fax.

Use myTTNC to send and receive SMS messages
As more and more people become unable to live without their mobile phone, SMS is quickly becoming one of the most popular forms of communication. myTTNC allows you to send SMS messages to a single contact or even an entire group of people - so you can text your entire customer base, without the need to individually send each message.
If you have a local 01/02 number, you can even receive SMS messages from your customers, giving you a complete messaging service.
Ditch that old fax machine and use myTTNC to go completely digital
Despite being an old and outdated technology, fax is still used by many companies today. But with myTTNC, needing a dedicated fax machine is now a thing of the past. Any of your numbers can be set up to receive faxes - we'll even convert them into a TIFF or PDF and email them straight to you.
But what if you need to send a fax? We actually give you two options for that. You can either send a document from within myTTNC or you can register your email address to send faxes via your email account. Lovely.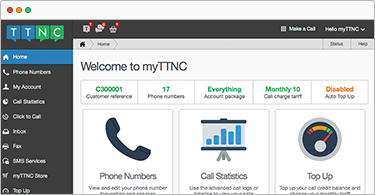 What can you do in myTTNC? Find out on our overview page
Find out more