Dial Out
Display your TTNC number when making a call
Since we began, receiving calls to your TTNC numbers has always been a seamless experience. But whenever you wanted to make a call, you had to display the landline or mobile number you were calling from.
With the Dial Out service, you can call your customers displaying your TTNC number on their handset's display.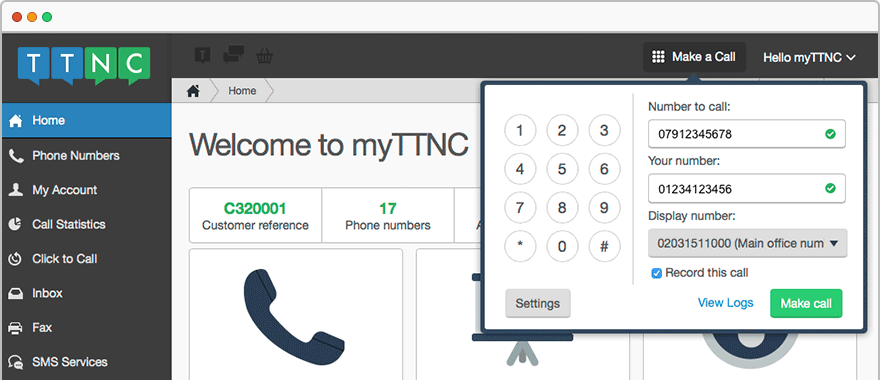 Use myTTNC to connect with your customers
At the top of every page in myTTNC you'll find our Dial Out keypad. Use the keypad to enter the relevant information, we'll call your landline or mobile and then connect you with your customer. It's as simple as that.
Strengthen your brand by using the same number for both inbound and outbound calls. And if your customer has your number saved to their phone, your company name will display instead. Nifty.
How much does it cost to use the Dial Out service?
The cost to call someone will depend on what type of number you'll be using to make the call and the type of number you're calling.
Use the form below to see how much calls will cost you. Please note that enabling Call Recording will add a 2p per minute surcharge.
Save time with default settings
If you use the Dial Out service a lot, you could save time by setting up some default settings. This includes the number you want to call from, as well as the display number - ideal if you have multiple TTNC numbers.
You can also choose to record all calls, taking the hassle out of enabling it each time you make a call. And the best part about the default settings is that they're not set in stone - if you want to make a change for just one call, you can do so in the dialler.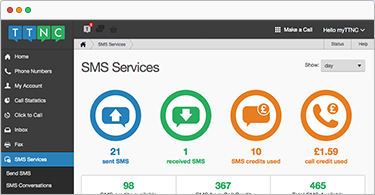 Use myTTNC as a communications platform, with SMS and fax services
Find out more