Our Network
Innovating to create reliability and flexibility
From June 2015, TTNC set out to completely overhaul its infrastructure. This wasn't change for the sake of change. The team at TTNC saw an opportunity to innovate and develop a network that would be genuinely unique. The new network would provide a platform not just to sustain the services TTNC has been providing to businesses for more than 10 years. It will allow TTNC to push forward and develop new solutions that will provide better connectivity for businesses of any size.
At the heart of this innovation has been the core requirements we know our users demand of our service:
Alongside these core requirements, our own expectations were that we would:
Use the latest technologies
Maintain high availability
Have multiple, robust levels of security
Have the ability to scale our capacity elastically to accommodate user requirements
---
Integrating VoIP and PSTN technologies
We aren't new to this. We have established connections with multiple top tier carriers, giving us access to interconnects with BT, Vodafone and Eircomm. And with this latest overhaul we've expanded to provide greater routing options and improve on an already high standard of call delivery.
Our network is fully NGN ("Next Generation Network") enabled. Regardless of whether a user's voice service is going over traditional PSTN, making use of our intelligent network services or using a Voice over IP (VoIP) solution the way we deliver our service is seamless. Behind the scenes it's the integration between PSTN and our IP network that enables us to provide such a diverse range of services and applications.
We've established peering connections between all of our carrier interconnects and the data centres in our IP Network. This significantly reduces congestion that could affect the flow of our IP traffic.
---
Our IP Network
Our IP Network has seen the most significant overhaul. And boy are we proud of how it's turned out!
ELASTIC CAPACITY
The most exciting part of it all is the use of Docker containers. We've been able to completely modularise our network applications into containers. These containers are small in size and easily deployed. We can create a container which is an exact replica, and completely independent, of the original application module.
In real life what this means is that in just 30 minutes we can expand our network, deploy all core business modules, and have it working seamlessly. This gives us the ultimate flexibility to accommodate the capacity our users require (whether it's expected or unexpected). That's because it's not just about deploying one server at a time. In 30 minutes, we can deploy one, or 20 servers if needed.
And, we can isolate these extensions of our network with our carriers so that we can provide dedicated capacity for voice traffic, if that's what a user needs. We've already done that in 2016 when one user was doing over 2 million calls a week, for 10 weeks.
We employ a blend of dedicated and cloud hosting with this elastic capacity that enables us to maintain high availability.
One of the biggest challenges we've faced was managing data and enabling the elastic network to access everything it needed to run successfully. As an example, each instance of our softswitch is accompanied by a local copy of the database. So when we're spinning up a new server we need to make sure that the data this local database has is up to date, kept up to date and shares any updates with the rest of the network. This has been achieved using MariaDB with multi-master replication.
DATA CENTRES & SERVERS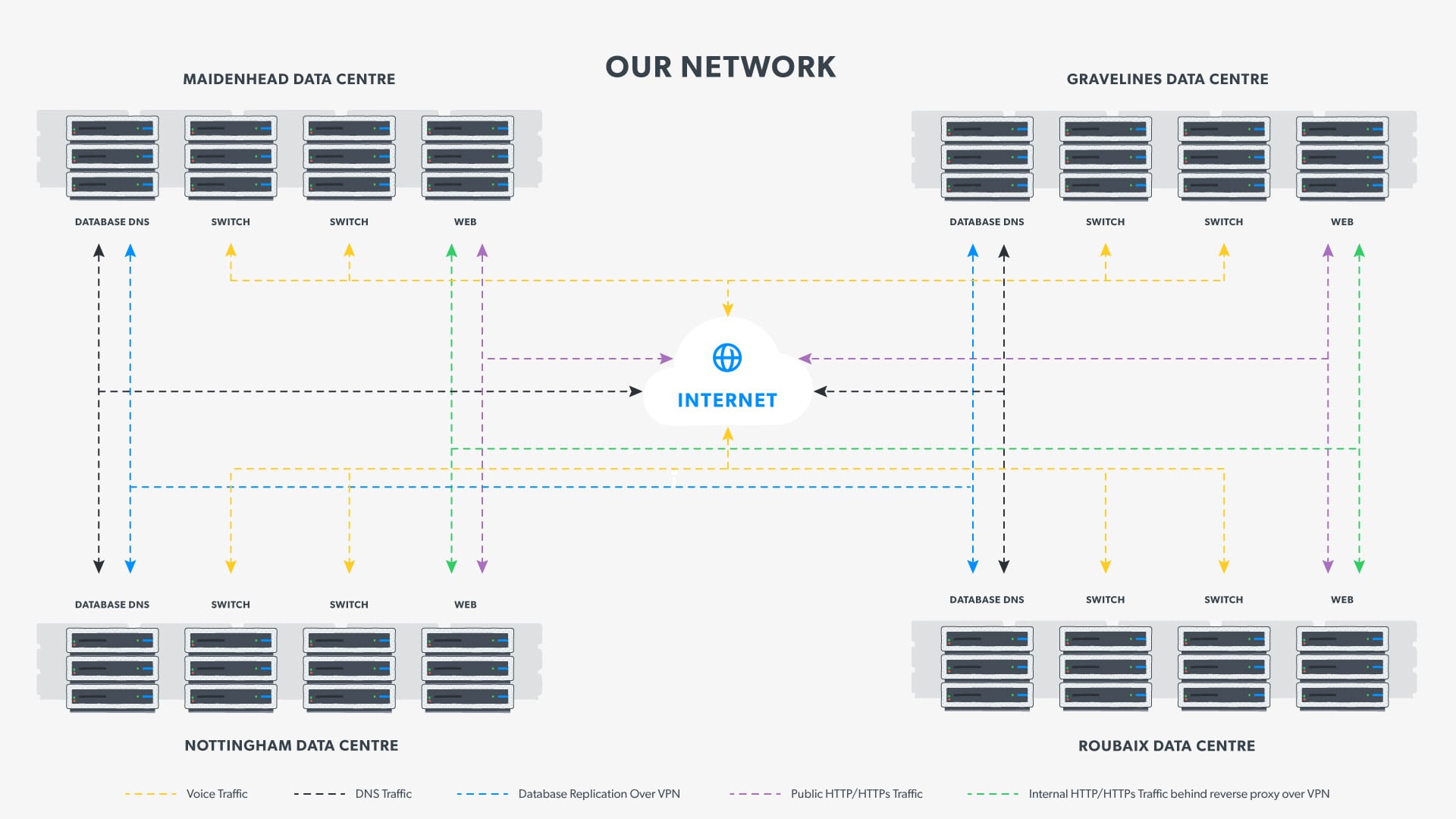 We have servers from 2 suppliers, in 4 data centres, 2 countries and 4 cities.
N+1 data centres
24 x 7 fuel supplies for onsite generators
Multiple Tier 1 network carriers
Multiple Tier 1 transit providers
Multi-site solutions for true disaster recovery
Private fibre links between all data centres
No single point of failure between data centre sites. If link fails traffic automatically re-routed.
Direct peering with LINX and the largest UK hosting entities
Human presence in the data centres 24 hours a day and 365 days a year
SYSTEM WIDE MONITORING
We have monitoring across our entire network which provides real time alarms, notification and reporting across everything we do. This covers everything from individual servers and processes, to ports and routers, and peering and connectivity.
As our network grows and our technology develops, we'll still need to do continuous upgrades and routine maintenance. Because our network has been designed from the outset to scale linearly, our servers can be removed and worked on without any effect on service availability. We'll always warn you of any upcoming maintenance through our status page status.ttnc.co.uk.
The status page is hosted on a separate network from ttnc.co.uk or myttnc.co.uk so will be available in the unlikely event that we're not.
OPEN API
We've always had an API for our users. If you want to find out more about what you can do with that access, take a look at our help centre. In line with the redevelopment of our web applications we're also updating the API.
---
Managing risks to security
Our data centre connectivity is encrypted with a mesh VPN. This effectively creates a local network over an international network. It's not point to point, so the mesh VPN can work out alternate routes when one of the hosts is unavailable. So regardless of where our servers are, they can always communicate with each other as if they are in the same network, and its traffic is highly encrypted.
Firewalls manage the flow of traffic to our servers. We strictly manage an access control list (ACL) to limit the number of access control entries (ACE) and only allow authorised traffic to the softswitches on our voice servers.