UK Ringtone
Play a familiar ringtone to your clients
You don't have to be in the UK to receive inbound calls on our numbers; you can forward calls to destinations anywhere in the world.
With the UK Ringtone Bolt On, your customers won't need to know that their call is being answered outside the UK (unless you choose to tell them). They'll hear the same ringtone as if they were calling a number in their town.
Play the UK ringtone to your callers, regardless of where in the world you are.
Ensure your callers aren't put off by an overseas ringtone when they call your UK number.
Perfect if you frequently travel abroad, or have offices overseas.
Please note: This service is for business use only.
We're unable to apply a UK Ringtone to a non-TTNC number.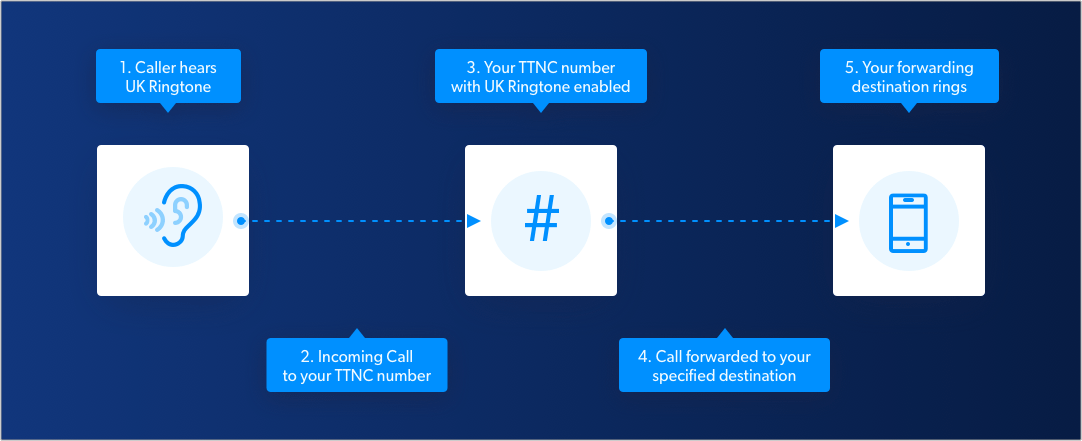 How to set-up
Add the UK Ringtone Bolt On to your basket when purchasing a new number from our website, alternatively, you can add the Bolt On to an existing number from the myTTNC Store.
Set your forwarding destination in myTTNC.
Enable UK Ringtone on your TTNC number.
That's it, once you complete these three steps, callers to your TTNC Number will hear the UK Ringtone regardless of where you are.
---
Ordering and adding UK Ringtone to your number
If you are not yet one of our customers, you'll need to order a number by using the number search tool below. Once you've found and selected a number, you'll be able to add the UK Ringtone Bolt On to your order.
If you are an existing customer, log in to myTTNC and go to the Store where you can add the UK Ringtone Bolt On to any number in your account.
Start by searching for a number below.
Visit our Help Centre for information about how to use and set up UK Ringtone.
Visit Help Centre