UK Ringtone
A UK number, an international destination
You don't have to be in the UK to receive inbound calls on our numbers; you can forward calls to a landline or mobile phone anywhere in the world.
But, your customer doesn't have to find out that their call is being answered outside the UK (unless you choose to tell them). By adding UK Ringtone to your number, they'll hear the same ringtone as if they were calling a number in their town.
Play a UK ringtone whenever someone calls your TTNC number - no matter where in the world you are*
Ensure your callers aren't put off by a foreign ringtone when they call your UK number
Ideal for people who travel abroad a lot or have offices in other countries
How does UK Ringtone work?
You want to provide a contact number for your UK customers, but you're not necessarily going to be in the UK to answer.
Not wanting to confuse things with a foreign ringtone, you've activated the UK Ringtone on your number through myTTNC.
Now your callers will always hear a UK Ringtone regardless of whether you're in the UK or not.
*Please note - This service only works with TTNC numbers. We are unable to apply UK Ringtone to a number that is not on our network.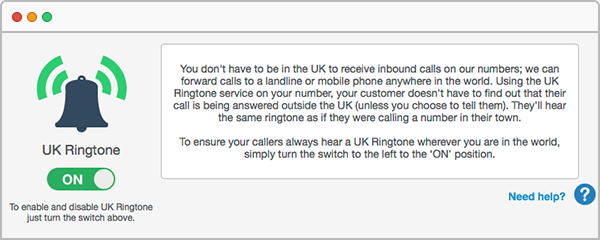 Setting up UK Ringtone
As you can see from the screenshot above, using myTTNC to set up this service honestly couldn't be any easier. Simply toggle the ON/OFF switch to enable and disable the service. That's it.
As easy as UK Ringtone is to set up, we still have a set up guide on our Help Centre for you to read through (although it's a rather short read).
Ordering and adding UK Ringtone to your number
UK Ringtone can be added to a number individually from the store in myTTNC.
If you're not yet a TTNC customer, start looking for your number here. You can then complete your set up when you log in for the first time.
Start the search for your number